Air Cleaner
The Martin® Air Cleaner is a compact dust collector that is installed above conveyor transfer to capture airborne dust, collecting particles in a foam filter. A reverse pulse returns dust to the main cargo stream.
Features and Benefits:
Compact filters work better and last longer while consuming less energy than conventional filter bags.
Small size of improved filters allows effective collection with less air movement and smaller fan, reducing energy costs.
Small unit size allows use of Air Cleaner in areas where space limitations complicates installation of other collection systems.
Reverse pulse cleans filters; replacement of compact filter elements is a one-hand, no-tool procedure performed from the clean side of the collector.
Eliminates many of the problems with central "baghouse" collection systems, including long ducting runs, large enclosures, high power consumption and difficult maintenance.
Standard model is suitable for use with non-explosive materials in non-hazardous locations.
Optional model available for use with explosive materials in hazardous locations.
Can be used as stand-alone dust collector systems or to supplement existing central dust collection systems.
Our technicians and engineers are available to provide expert advice and assistance on this product and all of your bulk material handling questions and problems. Please contact us today and let us help!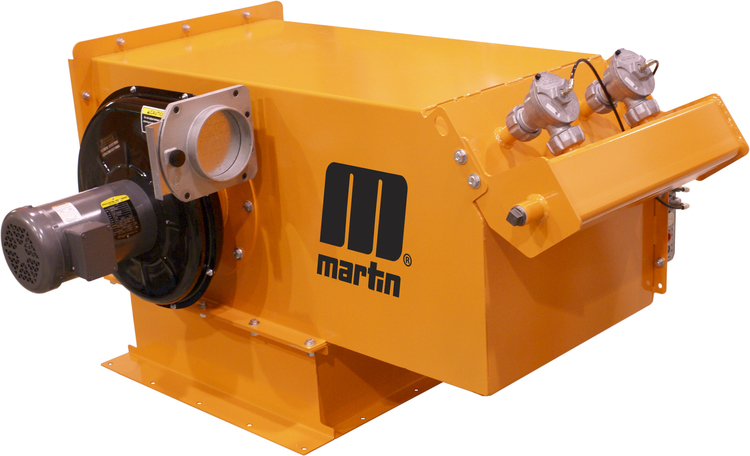 We Solved Their Problems!
Let us help you solve yours as well. All products and services provided by Martin Engineering carry our Absolutely No Excuses Guarantee. If we don't solve your problem, we will fully refund your money or provide a different solution for you. Period.
Dust Filtration And Dust Suppression Systems Mitigate Dust From PRB Coal
Constructed over 50 years ago, a five-unit coal-fired power plant in Omaha, NE was initially designed to burn Midwestern produced high sulfur coal. Though now cleaner, during the initial conversion process, the plant was not fully optimized to address the particular dust mitigation techniques necessary when handling PRB coal.
Read Case Study
Filtrating Dust At Environmentally-Conscious Coal-Fired Power Plant
Orlando Utilities Commission – Stanton Energy Center (SEC) wanted to increase safety by limiting dust and spillage from one of its principal conveyors. Engineers wanted to reduce airborne particles, eliminate a potential source of trips and falls, and reduce clean-up and maintenance time, allowing critical manpower to be utilized elsewhere.
Read Case Study
Transfer Point Solutions Reduce Airborne Dust At Rock Quarry
A quarry in Cedar Rapids was having trouble with fugitive dust. The Health Department was notified of severe dust being blown across the highway into a residential neighborhood. The Health Department set up a dust trailer to measure the dust particles near the residential neighborhood and findings revealed the dust exceeded code requirements.
Read Case Study
Call Us Today
+27 (0) 13 656-5135